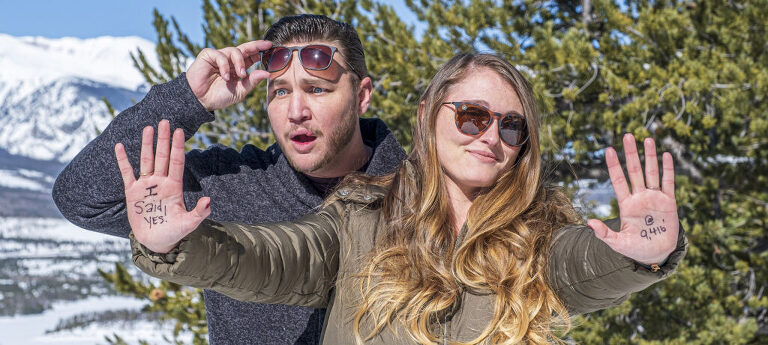 Professional Marriage Proposal Planning – So how does this work?
You have picked out the ring and now you are trying to figure out how to "pop the question". Hire me! I am a professional marriage proposal planner and photographer. I will help you design a unique event. I live out here in the mountains of Colorado near Breckenridge and Vail, so I have the advantage of helping to plan your marriage proposal with a "locals perspective".
Step 1
Do you know the answer to the question you want to ask?
This might sound obvious to some but like a good lawyer, you don't ask questions that you don't already know the answer to.
This is going to be the first question I will be asking you on our initial phone call. Talking on the phone gives both of us the opportunity to interview each other. You need to determine if you have the confidence in me that I can help you make your mariage proposal everything that you have in your mind's eye. This call also let's me determine if I can meet your expectations.
Step 2
Do you want this to be a romantic proposal or adventurous?
You should have a good understanding if your better half is more suited for a high alpine snowmobile excursion to the peaks above 12,000′ or more comfortable being tucked under a blanket in a one horse open sleigh.
Once we have come up with a workable plan I get out on the trail and scout your location(s). I send you scout photos so you can decide if what I see is where you want to "pop the question"
Step 3
All of our preparation has been completed. It is game time!
You arrive at your location, take a deep breath, drop to one knee, and ask for their hand in marriage. Some tears fall. My camera is clicking away capturing every moment.
Then everyone smiles for the camera as you reveal you had this whole thing planned all the way down to hiring a hidden photographer to capture everyone's reactions!
Step 4
She said YES!!!
We spend the next 30 minutes taking candid photos. You pop some Champagne. I write on her hands with a Sharpie pen.
After that, we part ways so I can process your photos and get them up online typically before you finish dinner that evening.
(this is the simple version, we need to talk on the phone, work out details, discuss what you have in your "mind's eye")