---
Welcome to Dramatic Focal Point
I specialize in helping you to plan, execute, and photograph your marriage proposal in the mountains of Colorado near Breckenridge, Vail, Steamboat Springs and Rocky Mountain National Park. We work together to help you decide how you want to propose. Then I capture that moment from a hidden location with my camera.

Every image that you see on my website is an actual, and authentic, marriage proposal.
I do not let ANYONE take a knee a second time!
Why hire a marriage proposal photographer?
Before you ask her/him to marry you, you should HIRE A HIDDEN PHOTOGRAPHER to capture your marriage proposal. There are only a few BIG life events that you will wish you had professional photographs. This is one of those life events! A professional marriage proposal photographer can act as a concierge. You may know that you want to propose in Colorado but do you know how? Do you know how many different ways you can propose here in the Colorado Rocky Mountains? I do! Then, when you are ready to announce your engagement to the world, you will have high quality images to post to social media.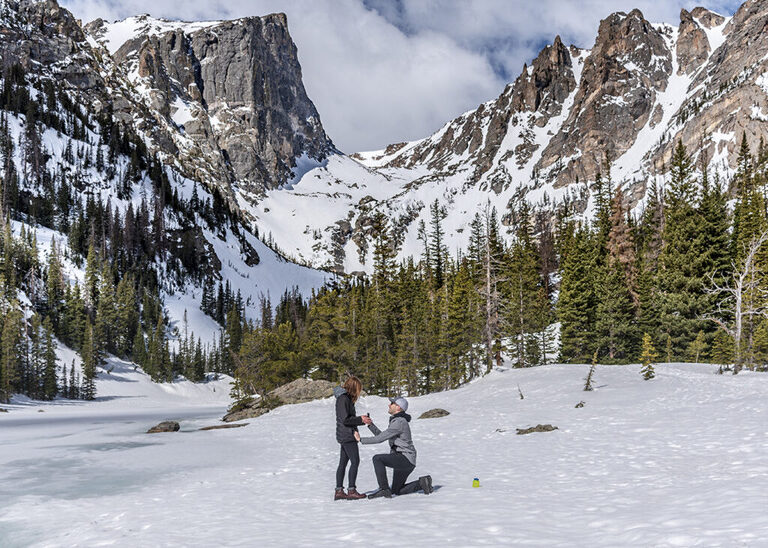 Why hire me to photograph your marriage proposal?
I live here in the Colorado Rocky Mountains, I know the area. With over 225 clients (as of September 2021) I have an extensive catalog of experience for you to tap into. With all this experience also comes many professional connections with local vendors (SLEIGH RIDE VENDORS , SNOWMOBILE RENTALS , etc.). When I spend the time learning who you two are as a couple I can create a unique marriage proposal. The goal for both of us is to catch the "she said yes" moment in a way that no one else can. I will help guide you in the many different ways that you can make your proposal a story to tell for a lifetime!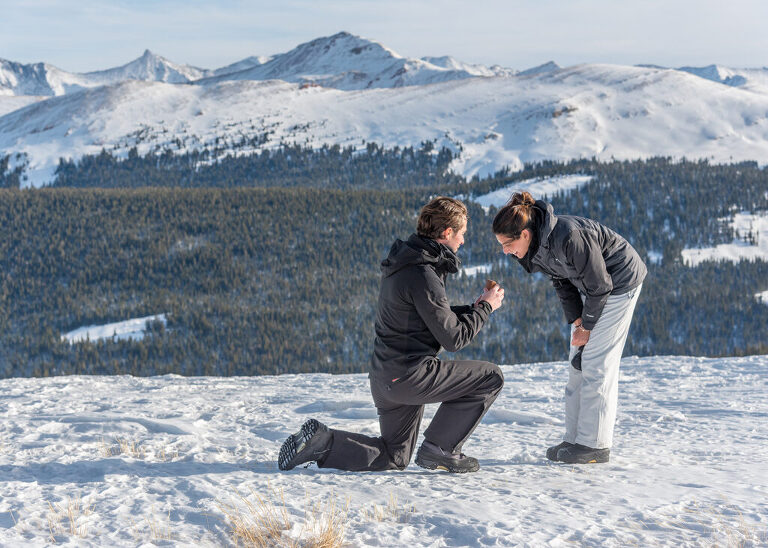 You are already a hero for popping the question!
You are instantly the hero when you drop down on one knee. Everything else is "icing on the cake". The fact that you hired a professional to help plan your proposal shows that you wanted this to be memorable. With my experience, I can help you sculpt your proposal into something just as unique as the two of you. I like to be challenged and I want to help you produce the best proposal in the most simplistic way.